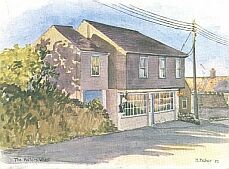 The Potters Wheel Located Mullion Cove Cornwall.
The Potters Wheel, Mullion Cove, Cornwall. Gift Shop, Holiday Information
Military Radio Collection, Free Ads, Accommodation,
Weather Station, Webcam, Mullion Cove Cornwall
When visiting Mullion Cove do not drive down to the harbour.
Park in one of the two car parks and proceed on foot.
Lazy individuals are spoiling the peace and tranquillity for others including residents.
They are also a danger to families with children walking down the lane.